From now until the end of the year, Absolute Antibody is running a promotion on our VivopureX™ antibodies and isotype controls. When you purchase any VivopureX™ antibody in a bulk size, you will receive the corresponding isotype control for free. Contact us today to receive a quote.
Syngeneic Antibodies
The majority of antibodies used in vivo in mice are of rat or hamster origin, and are therefore immunogenic, leading to adverse immunological reactions and gradual loss of activity. Engineered mouse-anti-mouse antibodies offer significant benefits over traditional antibodies, as demonstrated in a study comparing syngeneic mouse anti-PD1 antibodies to those of rat origin.
In order to obtain experimental results unaffected by systemic immunological responses to foreign antigen, syngeneic antibodies should be used for all in vivo applications. Absolute Antibody offers an extensive line of engineered mouse antibodies that are ideal for in vivo research, called VivopureX™.
The VivopureX™ collection consists of popular antibody clones, many of which were originally obtained from rats or hamsters, that have been engineered by Absolute Antibody into mouse-anti-mouse recombinant versions to improve research results. These antibodies offer many advantages compared to the original format, as illustrated by the data below. In this example the recombinant mouse PD-1 antibody, based on the widely used clone RMP1-14, reduced tumor size in a mouse model more effectively than the original rat version.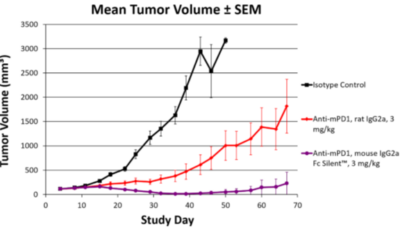 Reduced immunogenicity: no neutralizing antibodies are induced in the host organism, meaning the antibody works for longer and cohorts respond more consistently
Tailored effector function: the antibody format has been engineered to suit its most popular applications
Increased potency: less antibody is required to achieve the same response in mouse models
Batch-to-batch reproducibility: recombinant production ensures the highest possible reproducibility, while guaranteeing high purity and low endotoxin levels.
It is crucial to note the use of an isotype control in the above data. Antibodies can bind to molecules, in addition to their target, in undesired ways that can lead to erroneous results. Isotype controls are essential for establishing which part of the observable effect comes from the specific binding of the main antibody, and not from Fc-mediated interactions. At Absolute Antibody, they appreciate the importance of obtaining correct data the first time, which is why they offer a line of standard and proprietary isotype controls to accompany their VivopureX™ products.
Necessity of Isotype Controls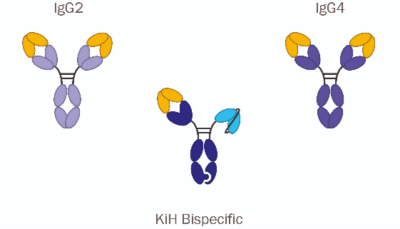 Isotype controls are a type of negative control that feature the same Fc region as the experimental antibody but contain a variable region that should not bind to the target antigen. The ideal control for your experiment should be as structurally similar to the main antibody as possible, with the only difference being the specificity. Absolute Antibody offers isotype controls that are recombinantly produced in the same manner as the VivopureX™ antibodies.
Of particular note are controls consisting of genetically engineered Fc domains called Fc Silent™. This proprietary format can be especially beneficial for in vivo experiments due to the long plasma half-life associated with the Fc domain, with none of the cytolytic immune effector mechanisms caused by the wild-type Fc domain.
Their catalog contains isotype control panels derived from two different antibodies: anti-NP and anti-fluorescein. Both are available in engineered mouse formats precisely matched to our VivopureX™ antibodies, as well as different species (human, mouse, rat, rabbit, and hamster), IgG subtypes, and novel formats such as half-antibodies or bispecifics.